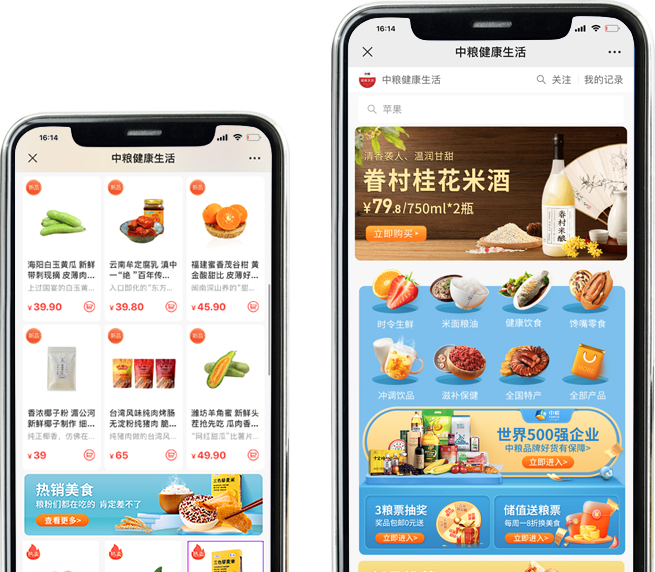 The Internet business is in the overall channel layout of platform e-business, vertical e-business and social media, including "COFCO healthy life" WeChat mall, JD.com flagship store, Tmall flagship store, etc. ,Zhonghong Bioengineering strives to create the domestic leading marketing model of Internet+ health products, to provide consumers with professional and reliable products, considerate health service, and convenient shopping experience.
Zhonghong Bioengineering launched the "COFCO Healthy Life" WeChat mall in 2015, which operates fresh fruits and vegetables, rice & flour & cereals, snacks, tonic & health products, and other divisions. It offers products with fresh and characteristic features and follows the strict control over food quality and safety. Since its establishment, Zhonghong Bioengineering has been providing its fans with safe, nutritious, and healthy products and excellent services, like COFCO's rice, flour, cereal and oil products and characteristic fresh food weekly recommended for fans, reducing the quality loss and cost increase in the intermediate links by selecting and delivering seasonal products from their places of origin, to ensure the fresh quality and source trace ability of ingredients. "COFCO Healthy Life" has attracted more than 3 million fans who pursue nutrition, health and food safety, becoming a potential and fast-growing channel for Zhonghong Bioengineering.
In recent years, Zhonghong Bioengineering has invested a lot in platform e-commerce, including Tmall Flagship Store, JD.COM Self-operated Flagship Store, and Vipshop. In addition, it has actively developed vertical e-commerce and newly emerging retail social channels.